HyreCar Offers Affordable Rideshare Rentals For Uber and Lyft Drivers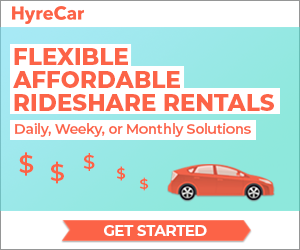 When making extra money is the motive and you're trying to focus on entrepreneurship, renting with
HyreCar
will help you achieve that. Renting a car for Uber, Lyft, Postmates, Grubhub or any rideshare or delivery service to earn money daily.
If you use
HyreCar
you don't have to worry about getting your own personal insurance policy. As long as the rental is for Uber, Lyft or any other ridesharing service,
HyreCar
will take care of the necessary insurance for you.
You can get started with renting the car and driving for Uber and Lyft within 24 hours. You have to choose the car, book it and make money! Give it a try and let us know how it goes!


This article contains affiliate offers which might provide compensation to this blog if you visit and purchase goods or services on their site